Samasz KDTC
Standard Specification
PerfectCUT cutterbar with quick knife replacement system, SafeGEAR system, hardened slides, wearing plates on sliding skids, central suspension, support springs, swath width adjustment, patented latch mechanism, limiting chain, PTO shaft, additional blades and mounting lever, adjustable support leg.
Key Features
Double Sprung Central Suspension
Heavy duty centre pivot mounting provides support across the whole cutter bar allowing exceptional ground contour following over uneven terrain. The double support springs further aid contour following whilst also allowing ground pressure adjustment. This central pivot system allows the mower to operate at angles of up to 24 degrees when working on steep banks.
Operator Friendly
The KDTC features a patented latch mechanism that provides a unique mechanical solution for 3 different positions; transport, work and parking. When turning on headlands the KDTC can be hydraulically lifted without folding the machine as well as a regulated drop speed of the mower. The safety curtain can be lifted and pinned back for easier access and maintenance of the cutter bar as well as the side cover for a lower transport height.
Heavy Duty Construction
The fully welded cutter bar is made from wear resistant 6mm hardened steel. The discs are also manufactured out of hardened steel and are shaped in such a way that promotes smooth crop flow reducing the workload of the mower. The KDTC is protected by a hydraulic safety breakaway system allowing the mower to retract by 24 degrees and also lift simultaneously by 30cm.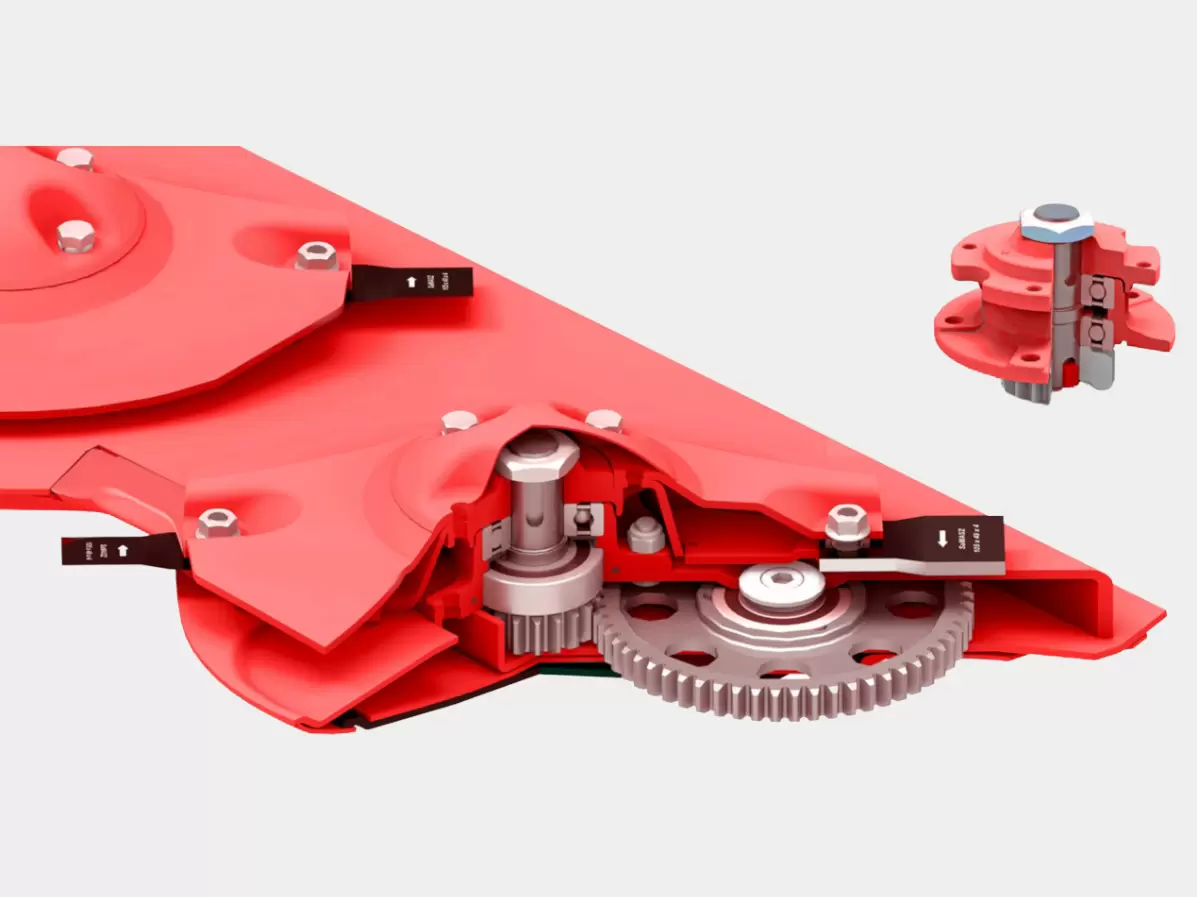 Quick Fit Blades & Keyway Shear Protection
110mm Hardened steel blades are fitted to the KDTC with the possibility of quick release and replacement using the mounting lever provided. Each disc on the mower contains its own protection by a keyway shear mechanism, when encountering an obstacle the force is applied through the keyway protecting the transmission.
Finance Calculator
To calculate your finance quote please click on your preferred model and optional specification from the list above. Then below, please select your preferred payment frequency and term length. Please note these are indicative figures and do not include any applicable delivery charges. Bespoke finance quotes are available to suit your budget, please ask our sales team for more information.
| Model | KDTC 301 | KDTC 301S |
| --- | --- | --- |
| Working width (m/ft) | 3.00 / 9'10" | 3.00 / 9'10" |
| Transport width (m/ft) | 2.00 / 6'6" | 2.00 / 6'6" |
| Transport height (m/ft) | 3.80 / 12'5" | 3.80 / 12'5" |
| Number of discs | 7 | 7 |
| RPM | 540 | 1000 |
| 3-point hitch cat. | II | II |
| Min. power demand (HP) | 80+ | 90+ |
| Weight (kg/lbs) | 1050 / 2315 | 1400 / 3090 |