Front Tank
Designed for high capacity and high working speeds, to complement any rear mounted implements, such as the Weaving GD or Sabre Toolbar. The Front Tank is available as either a single hopper with a 2200 litre capacity, or as a twin hopper with 2400 litre capacity and a 60/40 split, front and rear. The tank is cradled by a high strength frame with CAT 2/3N linkages as standard. Fitted with dipped/high beam headlights based on 7-pin plugs, side lights and indicators to ensure maximum visibility for the operator and oncoming traffic. A high-definition camera system is included as standard.
Electric metering units used throughout our drill product range ensure the highest available output with one button calibration and options for easy variable seed rate adjustment. RDS ISOCAN Controls with GPS forward speed monitoring provide a modern and ergonomic operator interface for a wide variety of applications.
The front tank is equipped with a large robust metal lid which allows efficient and easy filling, a front step for easy operator access, forklift slots for manoeuvrability and an operator toolbox for practical work.
Standard Specification
2200 or 2400 litre capacity, RDS ISOCAN Controls with GPS forward speed monitoring, Robust metal lid, Front step, Forklift Slots, Operator toolbox, HD camera system, Dipped/high beam headlights based on 7 pin plugs, Cat 2/3N linkage, Weaving volumetric metering units as used on Sabre and GD drills, One button calibration.
Key Features
Simple Calibration
Calibration is simple and quick using the single point discharge chute and screw adjustable metering mechanism. The corrosion-proof metering unit and stainless-steel drop box are maintenance free and will maintain their accuracy season after season. Complete discharge of the hopper is made quick and easy with the emptying hatch. Calibration and emptying the hopper is fuss free with access to the metering unit unhindered.
Hydraulic Fan
The Front Tank is fitted with a hydraulic 6" fan as standard. This reduces the RPM on the tractor, which reduces fuel costs, gives more flexibility with air flow, and helps prevent wear and tear to the tractor.
RDS iSOCAN Controls
The FT Sabre Drill is equipped with RDS iSOCAN controls. The terminal from RDS uses a 7″ touchscreen (16 x 9 format) display and includes physical keys to provide a modern and ergonomic operator interface for a wide variety of applications. The system allows up to 4 metering units or applicators, enabling dual cropping, fertiliser and Avadex applications. The iSOCAN software monitors and controls tramlining, hopper level, fan speed alarms, variable rate controls, on the go seed rate adjustment and offers activity data (e.g., area worked and quantities applied). The iSOCAN software is ISOBUS compatible, allowing complete control via ISOBUS with the additional of an ISOBUS ready cable (see optional specification).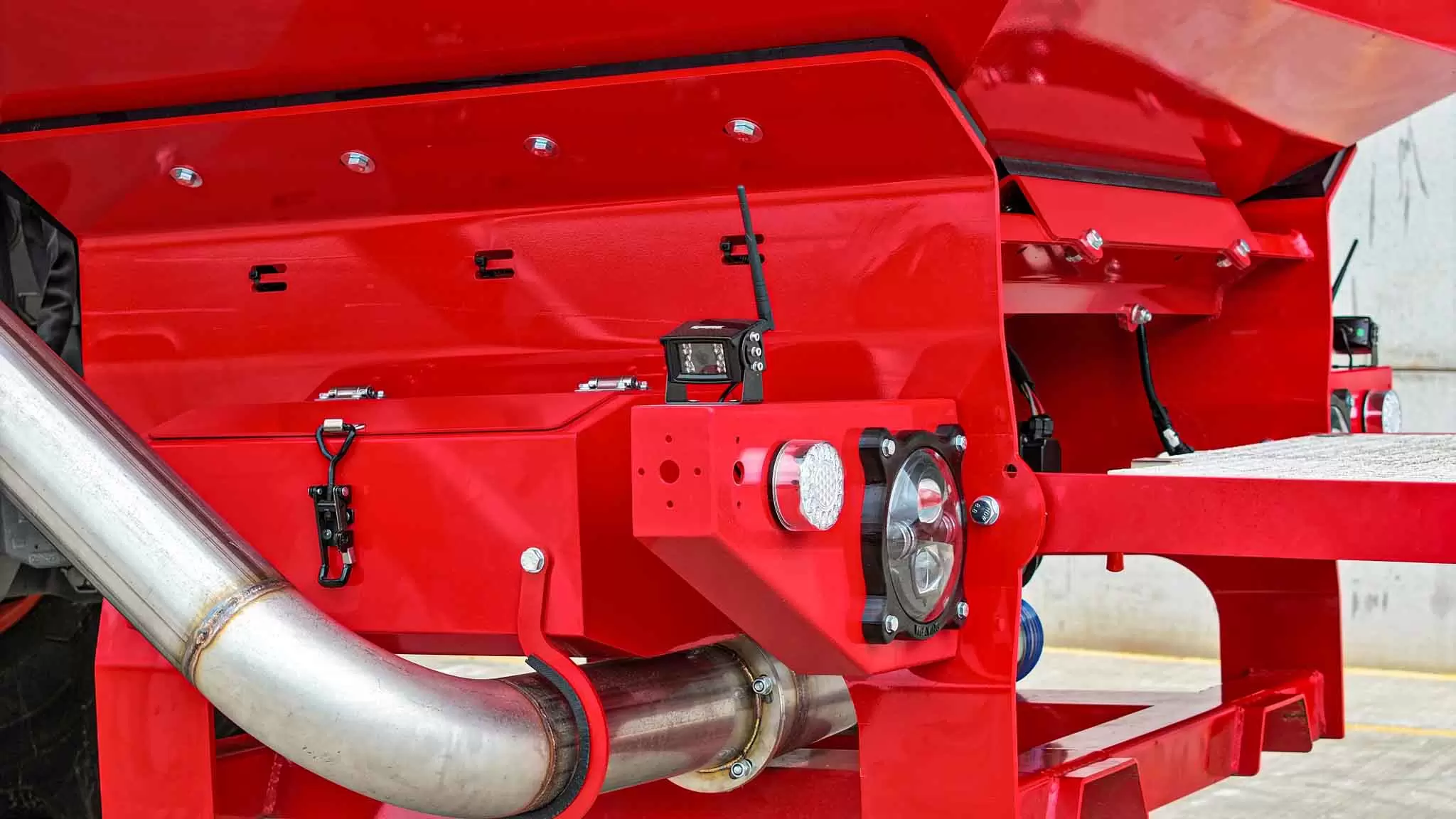 Junction Camera & Road Lights
All front tanks feature a HD junction camera system including screen. Main and dipped beam LED lights can also be controlled using a fob.
Finance Calculator
Please select your terms and repayment length to provide a representative finance quote for your purchase. Please note these are indicative figures and do not include any applicable delivery charges. Bespoke finance quotes are available to suit your budget, please ask our sales team for more information.
| Model | Single Metering | Double Metering |
| --- | --- | --- |
| Hopper capacity (l) | 2200 | 2400 |
| Split tank (l) | N/A | 1440 / 960 |
| Weight (kg) | 910 | 950 |
| Filling height (m) | 1.45 | 1.45 |
| Width (m) | 2.4 | 2.4 |
| Length (m) | 1.6 | 1.6 |
| Tank opening (m) | 2.0 x 1.0 | 2.0 x 1.0 |
| Hydraulic spool requirement | 2 double acting + 1 single acting + 1 free flow return | 2 double acting + 1 single acting + 1 free flow return |
| Fan oil capacity (l/min) | 45 | 45 |