Sabre Drill
The Sabre Drill has been designed to make low disturbance crop establishment simple and intuitive, offering precise seed placement while avoiding trash blockages and unnecessary downtime.


Equipped with hydraulic depth control, side-to-side wing pivots for precise contouring and extended settling area for handling large quantities of trash. The depth wheels are situated in the middle of the drill to allow front to back contour following and even weight distribution. All folding Sabre drills are equipped with electric driven metering units which are quick and easy to calibrate. Sabre Drills (excluding 3000M model) are two-piece fold for safe and easy access to the metering unit for calibration and emptying of the hopper.


The Sabre Drill is the ideal progressive tool for users looking to transition from conventional or minimum tillage systems into direct drilling systems.
Standard Specification
4 rows of 12mm tines with tungsten tips and stainless-steel adjustable seed tubes. 2,000L plastic hopper and tank sieve, colour touch screen RDS iSOCAN controls with GPS forward speed monitoring, wide flotation wheels, hydraulic depth control, wheel eradicators, a double row of following "z" harrows and LED road and work lights, all within a transport width of 3.0 Metres.
Key Features
Simple Calibration
Calibration is simple and quick using the single point discharge chute and screw adjustable metering mechanism. The corrosion-proof metering unit is maintenance free and will maintain its accuracy season after season. Complete discharge of the hopper is made quick and easy with the emptying hatch. Calibration and emptying the hopper is fuss free with the two-piece toolbar fold making access to the metering unit virtually unhindered.
Rapid sowing depth control
Field conditions, seed types and varieties can change and the Sabre drill working depth can be altered quickly to match by using the depth wheels. The hydraulic rams are extended, and aluminium spacers inserted to set the desired depth.
Precision Contour Following
A unique side-to-side wing pivot, up to 6o, allows the drill to closely follow undulations and slopes to maintain consistent seed depth across the width of the machine. As well as side to side, the Sabre has front to back contour following due to the 4 centrally mounted depth wheels.
Hydraulic Fan Drive
The Sabre Drill is fitted with a hydraulic fan drive. This reduces the RPM on the tractor, which in turn reduces fuel costs, gives more flexibility with air flow, and helps prevent wear and tear.
Hardwearing Sabre Coulter
12mm wide boron steel rigid tine delivers accurate seed placement. Each tine is mounted on rubber torsion bars, with an adjustable stainless steel seed tube suitable for all seed sizes. The 130mm Tungsten carbide tip design ensures longevity of the coulter. A rubber exhaust boot at the top of the coulter diffuses 50% of the air allowing controlled seed delivery to the soil and preventing seed bounce.
High Trash Clearance
The Sabre Tine coulters are staggered over 4 rows with a calming area between the 2nd and 3rd row to handle high amounts of trash. There are 12 different heights at which you can easily set the "Z" rear following harrow to allow for higher clearance. You can also adjust the pitch and therefore the aggressiveness of the following harrow in very trashy conditions to avoid a build-up of material.
Large Plastic Hopper
The Sabre is fitted with a 2,000-litre plastic hopper, with integral distribution head. Steps from the rear give access to the platform, which provides good and safe visibility over the hopper lid. Inspection door to the side of the tank for easy cleaning and maintenance.
RDS iSOCAN Controls
The Sabre Drill is equipped with RDS iSOCAN controls. The terminal from RDS uses a 7″ touchscreen (16 x 9 format) display and includes physical keys to provide a modern and ergonomic operator interface for a wide variety of applications. The system allows up to 4 metering units or applicators, enabling dual cropping, fertiliser and Avadex applications. The iSOCAN software monitors and controls tramlining, hopper level, fan speed alarms, variable rate controls, on the go seed rate adjustment and offers activity data (e.g., area worked and quantities applied). The iSOCAN software is ISOBUS compatible, allowing complete control via ISOBUS with the additional of an ISOBUS ready cable (see optional specification).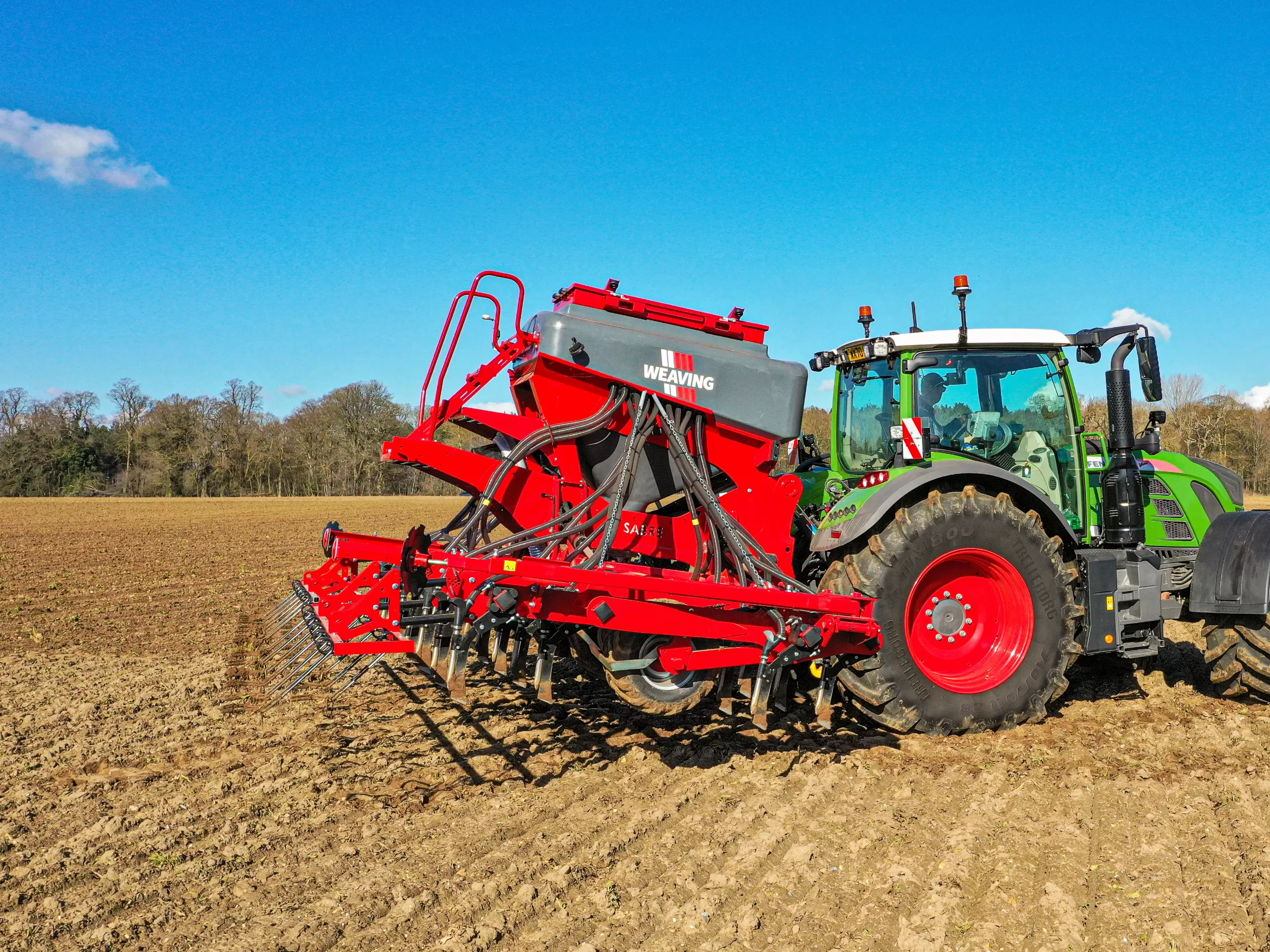 Configurable Row Spacing
The Sabre frame allows for multiple row spacing configurations. It is configurable as our standard spacing of 166mm, 200mm and 250mm for operators wanting wider rows spacings.
Pricing
Optional Specification
Select from the options below to add them to the final price
Hydraulic Markers

A serrated cutting disc to mark the surface of the soil allowing operators to align the centre of the machine at equal and parallel distances from their previous workings.
Pre-Emergence Markers

A pair of pre-emergence markers are fitted to specially designed coulter brackets using a serrated cutting disc to leave a visible mark for operators to easily follow for subsequent operations. These are activated automatically by the RDS controller.
Avadex Applicator (240L)

The Stocks Turbo Jet applicator with a capacity of 240 litres is a versatile and accurate 12 volt powered pneumatic applicator to meter and spread most small seeds. This applicator is commonly used to apply avadex or slug pellets with the measured material blown onto the seedbed surface via a separate distribution unit. Applicators can be configured to suit various working widths.
OSR/Slug/Fert Applicator (130L)

The Stocks Rotor Meter applicator has a capacity of 130 litres enabling it to accurately and safely meters micro and full size granular material and small seeds. The electronically speed controlled (ESC) applicator uses GPS to automatically maintain application rate as forward speed varies with 'on the go' rate adjustment. The metered material is fed into the venturi of the seed metering unit via a pressurised air supply ensuring constant delivery of material. The combination of materials is evenly mixed in the metering unit and delivered via each coulter into the seedbed.
iSOBUS Ready Cable

iSOBUS enables standardised communication between your tractor, software and drill through a single 'plug and play' terminal. The tractor driver is able to control multiple functions allowing better yield and precision drilling management from the comfort of the tractor cab using an iSOBUS Ready Cable.
Variable Rate Unlock Code

This is only available with iSOCAN controls. By purchasing the unlock code, operators are then able to access the variable rate seeding facility on the RDS controller.
Electric Half Shut Off

An electronically controlled actuator shuts off 50% of the distribution head cutting off seed supply to half of the machine width which allows for symmetrical tramlining.
Additional Tramline Valves

Our drills as standard are fitted with 4 tramline valves, 2 per side. If you are running wide tyres or tracks it may be desirable to add additional valves. (Price per additional valve)
Finance Calculator
Please select your terms and repayment length to provide a representative finance quote for your purchase. Please note these are indicative figures and do not include any applicable delivery charges. Bespoke finance quotes are available to suit your budget, please ask our sales team for more information.
| Model | Sabre 3000M | Sabre 4800M | Sabre 6000M | Sabre 6400M | Sabre 7200M | Sabre 8000M |
| --- | --- | --- | --- | --- | --- | --- |
| Working width (m) | 3 | 4.8 | 6 | 6.4 | 7.2 | 8 |
| Hourly output (ha) | 3 | 4.5 | 6 | 6 | 7 | 8 |
| Row spacing (mm) | 166 | 172 | 166 | 166 | 166 | 166 |
| No. of coulters | 18 | 28 | 36 | 38 | 42 | 48 |
| Minimum HP requirement | 120 | 160 | 200 | 220 | 280 | 300 |
| Frame type | Rigid | Folding | Folding | Folding | Folding | Folding |
| Working speed (km) | 8-14 | 8-14 | 8-14 | 8-14 | 8-14 | 8-14 |
| Road transport width (m) | 2.99 | 2.95 | 2.95 | 2.95 | 2.95 | 2.95 |
| Weight (kg) | 2000 | 2800 | 3200 | 3300 | 3600 | 3900 |
| Filling Height (m) | 2.4 | 2.6 | 2.6 | 2.6 | 2.6 | 2.6 |
| Depth (m) | 3.85 | 3.85 | 3.85 | 3.85 | 3.85 | 3.85 |
| Hopper capacity | 2000 | 2000 | 2000 | 2000 | 2000 | 2000 |
| Tyre size | 26 x 12.00 - 12 | 26 x 12.00 - 12 | 26 x 12.00 - 12 | 26 x 12.00 - 12 | 26 x 12.00 - 12 | 26 x 12.00 - 12 |
| Hydraulic spool requirement | 2 double acting + 1 single acting + free flow return | 2 double acting + 1 single acting + free flow return | 2 double acting + 1 single acting + free flow return | 2 double acting + 1 single acting + free flow return | 2 double acting + 1 single acting + free flow return | 2 double acting + 1 single acting + free flow return |
| Fan oil capacity (l/min) | 45 | 45 | 45 | 45 | 45 | 45 |
Testimonials
Adrian Jones, G P & D M Jones, Shropshire
Ours was one of the very first Sabre Drills [of the new generation] arriving on farm in January 2020.
We shallow cultivate with the Weaving Shortdisc, then follow with the Sabre Drill into various soil types and conditions without fault and with great success. We are finding that with the Sabre tine delivers great yields and soil health is improving. It certainly is well engineered and very simple, drop it in and go, the tractor purrs along at 1400 revs about 10/12k all day long. After our 3-metre combi drill, it's certainly a game changer - no worries about running out of fuel now in a day, in fact 2 days of sowing to one tank and almost a week's worth of drilling in two days now.
We can't afford the luxury of two drills, nor do we need two drills. The Sabre does it all, and probably one of the best investments we've made.
Adrian Jones, G P & D M Jones, Shropshire
Andrew Thomas, J G & D C Thomas, Herefordshire
Why did we choose Weaving's Sabre Drill? We made the move after our previous disc drill couldn't handle wet conditions. Seeing what the Sabre Drill could do, it was a no-brainer. It really makes precise crop establishment simple.
It's done a great job so far. We went with the 4800M model. The output is unbelievable, you can cover a lot of ground and the pivoting wings follow the contours nicely. The crops all look well. I can't fault the Sabre Drill really. It's so cheap to run and, in today's world, that matters.
I've drilled any time from August right up until December in quite heavy soils. No matter what the conditions are, we can always get on and drill. We can also combine the Sabre Drill with other equipment to fully lean into low disturbance crop establishment, so we're ready to meet all the new environmental management requirements.
So far, the Sabre Drill has been brilliant. It's excellent value for just how powerful and low cost to run it is, and can do the same job as other drills, if not even better.
Andrew Thomas, J G & D C Thomas, Herefordshire
Jono Holland, JCH Farming, Berkshire
The new Sabre is a joy to use. Hassle free, built well, and it really cranks out the acres. I can easily do 130 acres on one of my big days, which is good enough for me. Seed placement is very accurate, and easy to set up. Trash flow (summer or Spring) was brilliant with the four rows of tines. it basically doesn't block up. Calibration and metering are excellent, and easy to do.
I've seen some lovely thick crops, which have hugely helped suppress black grass. I've had wheat yields this year that I haven't had for the last ten years. I have a lot of flint, and tine wear has been a full set in one season. This equates to £3.50 per acre metal costs, which is really good for my soil.

So, all in all, very pleased indeed. If anyone is wondering if the Sabre can be a true single pass drill - I can absolutely confirm it can. It's tough, and it'll keep going and going. Superb service from Weaving as a company, and nothing was any trouble for them.

Jono Holland, JCH Farming, Berkshire
Peter & Tom Beers, Shelton Estates Ltd, Northamptonshire
On the 1,150ha we farm, blackgrass is an area of concern, so a minimum tillage establishment regime has replaced ploughing for most crops. After buying one of the first of the new design 6m Sabre drills last year and been impressed by its performance, we asked Weaving to supply the larger 8m version the following spring, and so far, it's proving equally good.
The previous model with three tine rows worked well, but the extra clearance and open design of the four-row version is an improvement, and we have seen this on both our 6m drill last autumn and the newer 8m model too. It's easier to see all the tines, and if coulters become blocked then this is quickly noticed as seed spills out of the vent. The zig-zag harrow is another improvement. Our new 6m Sabre drill was used last autumn in wet conditions and the harrow remained clean, where the press roller of the previous drill might have blocked with sticky oat straw residues. The harrow is effective, seed is covered, the surface is left level and it's suitable for all weathers.
Operating costs are low. The low power requirement saves fuel and the only soil wearing parts are the tine points, and seed tubes located at the rear of the coulters – both of which are easily and quickly changed.
The farm operates the 8m Sabre drill behind a John Deere 8370RT twin-track crawler which has more than enough power and works at speeds up to 13kph on our heavy clay loam soils.
We find the Weaving team very easy to work with and the company values our feedback and is always interested in how we get on with the products.
Peter & Tom Beers, Shelton Estates Ltd, Northamptonshire
Simon Cottle, F C Cottle & Son, Wiltshire
Here in the heart of Wiltshire just on the edge of Salisbury plain, we are a mixed farm covering around 1450 acres with arable and suckler herd enterprises. This is split up typically with 700 acres of arable growing WW, WB, WOSR, SB, SO, and S.Beans and 750 acres of grass providing grazing and silage for 300 suckler cows and followers.
All straw is removed and all FYM put back on the arable ground. Historically we have always plough­pressed or Weaving Subdisced followed by a 3m Kuhn LC3000 power harrow combi drill.
Looking to save money and speed up the operation with less soil inversion, the new Sabre Tine Drill and LD Top-Soiler seemed to tick the box. The Sabre is very simple to use and most importantly very versatile. The Sabre allows us to drill in and on any type of cultivated soil or direct, in the right conditions, this versatility is a must on our varying soil types. With its large hopper capacity and 5.4m width to match our 27m tramlines and at 12 kph, our higher work rates have allowed us to make considerable savings.
Due to the farm traffic from the straw removal and FYM applications we opted for the 4m LD Top-Soiler which lifted and loosened the soil leaving it a weatherproof state ideal for the Sabre Tine Drill to follow after a chit. The LD is simple but very effective, its low disturbance legs do a great job under the surface but leave it relatively undisturbed on the top.
The key when using it is getting the right speed, we find 6.5-8kph ideal, the LD depth will obviously vary between soil types and conditions but typically use it between 7 and 9 inches, relieving compaction in the seed and early rooting zone. Both implements are pulled by a Case Puma 200CVX which handles them both comfortably.
This system has reduced our establishment costs by two thirds without any noticeable yield loss, and with the added benefit of being able to travel with following applications due to firmer soil conditions. Whether you're farming conventionally or keen to move towards a more regenerative approach this combination ticks the box.
Simon Cottle, F C Cottle & Son, Wiltshire
Mike Ashby, J L Ashby & Co Ltd, Peterborough
2022 has been our first year with our 7.2m Sabre Tine drill. I purchased the Sabre because it did a different job to the two existing drills we have, one an old tine drill and also a wheat disc drill. The Sabre drill has a solid leg giving direct drill potential and there are no following tyres as with our disc drill, giving potential to drill in testing conditions.

We started off with our Sabre direct drilling our OSR, we cut the stubble long to hide the OSR from the flea beetle. We used the main hopper to apply TSP and the rear Stocks applicator to drill OSR mixed with Berseem Clover. The Sabre drill's calibration is very accurate, calibrate 3 times and they always come out the same, all our OSR has grown well, we planted 70 seeds/metre and I am very happy with the establishment. There was initially a challenge with straw build up around the tines - which has seemed a common theme amongst farmers in 2022 - but moving the tines forward should alleviate this next year.

We used our disc drill to do the bulk of our wheat drilling, it has a split hopper, we drill base fertiliser at the same time. When the weather came wet, we used the Sabre drill and it worked exceptionally well, I would have no hesitation using it as my main wheat drill. We actually tried the Sabre drill direct on OSR stubble and the establishment has been fantastic, it is likely I will direct drill all my wheat behind OSR next year.


Lastly, we drilled 200 hectares of winter beans this year, they went in beautifully with the Sabre drill and my first observation when they came up was how even the establishment was, every bean grew.
Mike Ashby, J L Ashby & Co Ltd, Peterborough