Tine Drill
The UK's Number 1 selling tine drill with an excellent working life and re-sale value. This time proven seed drill is suitable for minimum tillage or plough-based cultivation systems and all soil types including very light soils. It has a low horsepower requirement and offers high work rates and simple calibration.
Owing to the 4 rows of auto-reset tines with extra clearance, the drill works in wet and dry conditions and is easily able to cope with large amounts of trash.
The pneumatic metering mechanism delivers precise quantities of seed to each coulter, even with seed rates as low as 2kg/ha and with working widths of 6.6M wide. Driven from the land wheel for accuracy and simplicity, the two-speed metering device is accurate with fine rape to large bean seeds. Electric metering is also available as an optional specification upgrade.
Corrosion resistant materials are used extensively to ensure the drill maintains a consistent high performance throughout its long working life, with minimal wearing parts to replace.
Standard Specification
4 Rows of auto-reset tines with 125mm (5") row spacings, 1800 litre plastic hopper and RDS basic tramline system with low level seed sensor. Wheel eradicator tines and a double row of following harrows. LED road lights, wing support wheels and over run brake on the metering wheel. Hydraulic folding to 2.9M transportation width. Cat II Linkage mounting. Hydraulic markers included.
Key Features
Simple calibration
Calibration is simple and quick using the single point discharge chute and screw adjustable metering mechanism. The corrosion-proof metering unit is maintenance free and will maintain its accuracy season after season. Complete discharge of the noncorroding hopper is made quick and easy with the emptying hatch.
Rapid sowing depth control
Field conditions can change and the Weaving tine drill working depth can be altered quickly to match. The switch from minimum tillage to ploughed land is simple and quick. Two simple and easy-to-reach screw jacks will raise or lower the main tine carrying frame parallel to the ground.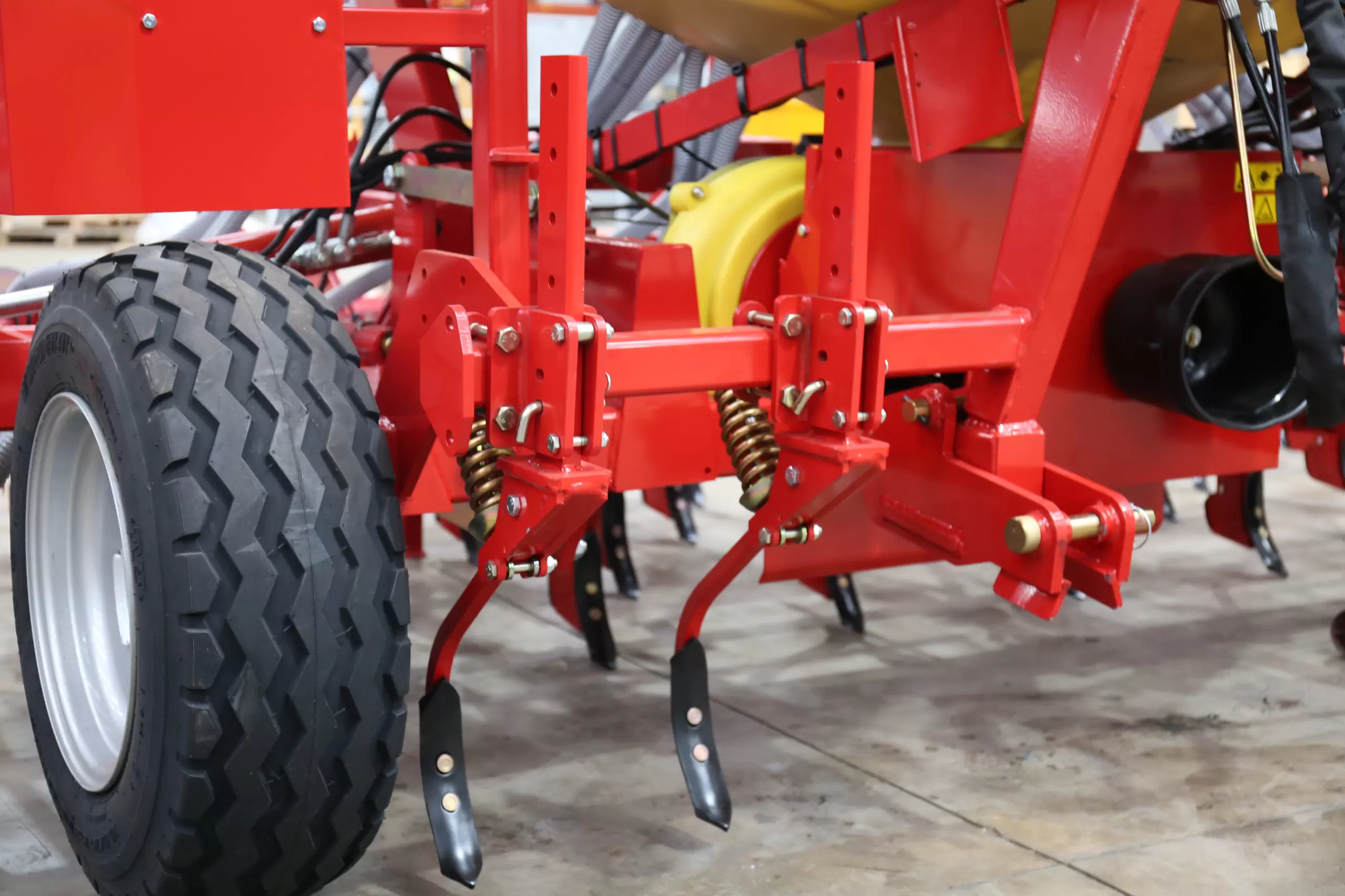 Even seed beds
Wheel mark eradicator tines which, can be individually set for working width and depth, will open up the seedbed after the passage of heavy tractors over ploughed land. All tines can have their penetration pressure adjusted individually to provide an even seedbed regardless of surface conditions.
Unique Coulter Design
Adjustable coil sprung seeding coulter with unique seed boot allows soil to settle behind the tine giving more consistent seed placement.
Parallel Linkage
The Weaving tine drill features a parallel linkage allowing the seeding toolbar to contour follow providing consistent seed depth across the width of the drill.
Multi Function Drill Control
The Weaving tine drill uses a multi function drill control (MFDC). This allows tramlining functions, fan speed, area worked, forward speed and a low level hopper sensor. Upgraded drill controls are available with additional features such as electric metering (see optional specification).
Pricing
Optional Specification
Select from the options below to add them to the final price
Pre-Emergence Markers

A pair of pre-emergence markers are fitted to specially designed coulter brackets using a serrated cutting disc to leave a visible mark for operators to easily follow for subsequent operations. These are activated automatically by the RDS controller.
Avadex Applicator (240L)

The Stocks Turbo Jet applicator with a capacity of 240 litres is a versatile and accurate 12 volt powered pneumatic applicator to meter and spread most small seeds. This applicator is commonly used to apply avadex or slug pellets with the measured material blown onto the seedbed surface via a separate distribution unit. Applicators can be configured to suit various working widths.
OSR/Slug/Fert Applicator (130L)

The Stocks Rotor Meter applicator has a capacity of 130 litres enabling it to accurately and safely meters micro and full size granular material and small seeds. The electronically speed controlled (ESC) applicator uses GPS to automatically maintain application rate as forward speed varies with 'on the go' rate adjustment. The metered material is fed into the venturi of the seed metering unit via a pressurised air supply ensuring constant delivery of material. The combination of materials is evenly mixed in the metering unit and delivered via each coulter into the seedbed.
Artemis Lite GPS Metering Upgrade

Designed specifically for drills with a single pneumatic metering unit, this low cost electronic metering solution allows on the go rate adjustment, simple calibration and prevents seeding errors.
iSOCAN GPS Metering Upgrade

The drill is equipped with RDS Artemis Lite as standard but can be upgraded to RDS iSOCAN Controls. The benefit of the upgrade is being able to use up to 4 metering units or applicators, enabling dual cropping, fertiliser and Avadex applications. The iSOCAN software also monitors and controls tramlining, hopper level, fan speed alarms, variable rate controls, on the go seed rate adjustment and offers activity data (e.g., area worked and quantities applied). The iSOCAN software is ISOBUS compatible, allowing complete control via ISOBUS with the additional of an ISOBUS ready cable (see optional specification).
iSOBUS Ready Cable

iSOBUS enables standardised communication between your tractor, software and drill through a single 'plug and play' terminal. The tractor driver is able to control multiple functions allowing better yield and precision drilling management from the comfort of the tractor cab using an iSOBUS Ready Cable.
Variable Rate Unlock Code

This is only available with iSOCAN controls. By purchasing the unlock code, operators are then able to access the variable rate seeding facility on the RDS controller.
Electric Half Shut Off

An electronically controlled actuator shuts off 50% of the distribution head cutting off seed supply to half of the machine width which allows for symmetrical tramlining.
Hydraulic Fan Drive

Our Tine drills are equipped with a PTO driven fan as standard. A hydraulic motor that attaches to the PTO is available to drive the fan hydraulically to reduce fuel usage and prevent unneeded wear and tear on the tractor.
Finance Calculator
To calculate your finance quote please click on your preferred model and optional specification from the list above. Then below, please select your preferred payment frequency and term length. Please note these are indicative figures and do not include any applicable delivery charges. Bespoke finance quotes are available to suit your budget, please ask our sales team for more information.
| Model | Aguirre 4m | Aguirre 4.8m | Aguirre 5m | Aguirre 6m | Aguirre 6.6m |
| --- | --- | --- | --- | --- | --- |
| Working width (m) | 4m | 4.8m | 5m | 6m | 6.6m |
| Hourly output (ha) | 4 | 4.5 | 5 | 6 | 6.5 |
| Row spacing (mm) | 125 | 125 | 125 | 125 | 125 |
| No. of coulters | 32 | 38 | 40 | 48 | 48 |
| Minimum HP requirement | 120 | 130 | 130 | 150 | 160 |
| Frame type | Folding | Folding | Folding | Folding | Folding |
| Working speed (km) | 8-12 | 8-12 | 8-12 | 8-12 | 8-12 |
| Road transport width (m) | 2.95 | 2.95 | 2.95 | 2.95 | 2.95 |
| Weight (kg) | 1140 | 1270 | 1270 | 1350 | 1500 |
| Hopper capacity (L) | 1800 | 1870 | 1800 | 1800 | 1800 |