Vineyard GD Drill
The Weaving Vineyard 'Mini' GD Drill is the little brother to the Mounted GD. This compact version has been designed to drill grass and cover crops in vineyards, orchards and urban environments. The mini GD is fitted with all the same features and technologies as the mounted GD, allowing effective crop establishment. The GD drill is the outcome of continuous refinement and development, to create a simple yet precise seed drill. It features the patented and future proofed GD coulter, which provides remarkably low soil disturbance, has a very low draught requirement along with an excellent service life. The GD drill excels in its adaptability to satisfy all drilling systems, soil types and conditions. This provides users with the flexibility to approach zero-till alongside traditional crop establishment methods. The Vineyard GD is fitted with a 300L capacity Weaving Magnum seeder allowing easy access to the volumetric metering unit accompanied by RDS Artemis Lite controls. Calibration is quick and simple. A closed hydraulic suspension system provides individual coulter pressure of up to 200kg maintaining a consistent sowing depth.
HOW THE COULTER WORKS
The principal behind the GD coulter design is based on a double disc arrangement, mounted on a 22° angle off the vertical which is able to pivot around a central kingpin mounted within the coulter body. The larger leading outer disc cuts an opening slice in the soil whilst the smaller inner disc is in effect undermining the 'upper' side forming an opening for the seed to be placed precisely. This process removes side wall compression from the opening slot, making slot closing more effective and consistent. The lifted wall of the soil is firmed down onto the seed by a single press wheel ensuring good seed to soil contact. The press wheel also acts as a depth regulator for the disc coulters. Drilling depth is adjusted by moving a single pin through a bank of holes with a depth range of 16-144mm in 16mm increments. Coulters are individually pressurised by a hydraulic system providing up to 200kg of downwards pressure helping to maintain consistent contact with the ground and follow contours and undulations.
Standard Specification
300L Hopper, RDS Artemis Lite controls with GPS forward speed monitoring, 4" hydraulic fan, a 2-row coulter bar with a row spacing of 166mm, work, tank & road lights, stone guards and stainless-steel scrapers.
Key Features
Seed Placement
The GD coulter can accurately place a wide variety of seed types and sizes whilst maintaining a consistent depth. Seed is delivered between the two discs of the coulter directly to the bottom of the soil opening. The disc coulter units of the GD Drill are independently mounted and hydraulically pressurised, allowing each coulter to maintain consistent contact with the ground. Contours, obstacles, and undulations are no challenge for accurate seed placement. A rubber exhaust boot at the top of the coulter diffuses 50% of the air allowing controlled seed delivery to the soil and preventing seed bounce.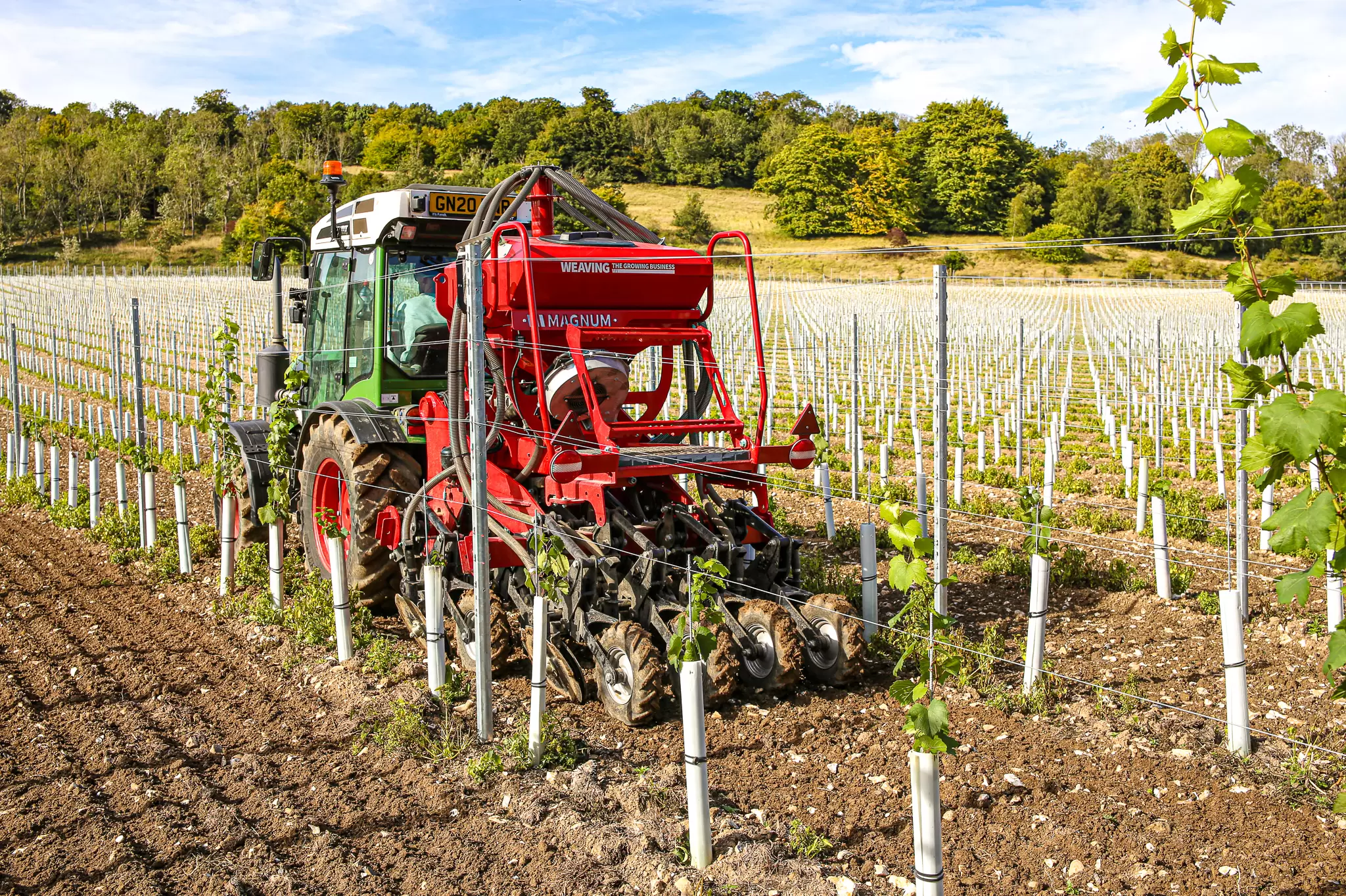 Soil Disturbance
The GD coulter offers superior soil disturbance control compared to other no-till drills on the market. The coulter eliminates the opportunity for fresh soil to be brought to the surface whilst the surface layer is left intact and therefore prevents fresh and dormant weed seeds from germinating. The leading outer disc cuts through the soil whilst the smaller inner disc undermines the soil structure creating an opening for the seed to be placed, before swiftly being firmed back to its original state.
Precise Metering
The Accord metering unit is equipped with RDS Artemis Lite controls. This guarantees a repeatable metering dose ranging from 1.8 to 400 kg/ha. Suitable for fine and coarse grains, with no need to replace the metering rollers. Easy adjustment and accurate settings ensure seamless seed dosing from the comfort the tractor cab. Functions include GPS forward speed monitoring, symmetric and asymmetric tramline control, areas totals, fan tachometer and low seed level alarm.
Hydraulic Fan Drive
The GD Drill is fitted with a hydraulic fan drive. This reduces the RPM on the tractor, which in turn reduces fuel costs, gives more flexibility with air flow, and helps prevent wear and tear.
Finance Calculator
Please select your terms and repayment length to provide a representative finance quote for your purchase. Please note these are indicative figures and do not include any applicable delivery charges. Bespoke finance quotes are available to suit your budget, please ask our sales team for more information.
| Model | GD1500M | GD2000M |
| --- | --- | --- |
| Working width (m) | 1.5 | 2 |
| Hourly output (ac) | 3.5 | 3.5 |
| Row spacing (mm) | 166 | 166 |
| Coulter pressure (kg) | 200 | 200 |
| No. of coulters | 9 | 12 |
| Minimum power requirement (hp) | 60 | 60 |
| Frame type | Rigid | Rigid |
| Working speed (km) | 8-12 | 8-12 |
| Road transport width (m) | 1.5 | 2 |
| Weight (kg) | 1200 | 1475 |
| Height (m) | 2.4 | 2.4 |
| Depth (m) | 2.4 | 2.4 |
| Hopper capacity | 300 | 300 |
| Hydraulic Fan | Standard | Standard |
| Metering Control | Artemis Lite | Artemis Lite |
| Stone guards | Optional | Optional |
| Wheel scrapers | Optional | Optional |
Testimonials
Sam Barnes, S J Barnes Ltd, Kent
We provide specialist contracting services for vineyards throughout the UK, much of our maintenance work is establishing, maintaining and repairing grass and cover crop strips between the vine rows. Since investing in the new Vineyard GD, there have been many situations where we have been able to drill straight into the existing vegetation, avoiding the need for pre-cultivation.
We are sowing seed mixes containing 20-30 varieties of seed at a rate of 8-10 hectares per day. Work rates are considerably higher than we could have achieved with our power harrow drill, and our fuel consumption is lower too. The Weaving drill is well made and heavy which helps ensure effective penetration, but it's very easy to pull. The other advantage over the power harrow drill is the lower wear rates when operating in stony ground. Many of the vineyards we look after are on flinty soils and the Weaving GD's disc coulters suffer less wear and pivot to work around obstructions which reduces the risk of breakages.
We've used it in a wide variety of conditions including hard and soft soils, and we have never had a coulter blockage and the hydraulic depth control is superb.
Each mix requires a new calibration but the process is quick and easy. The speed of the hydraulic driven fan has a wide range of adjustment to suit seeds of all sizes and densities. The vineyard GD has a simple and reliable design and excellent build quality, if anything it's over made, and we like that as it means it's built to last.
Sam Barnes, S J Barnes Ltd, Kent