Energiser
The Energiser is a tillage machine suitable for seedbed preparation, straw redistribution and soil loosening. Working depth is between 0 and 15cm (6"). 167mm spacing between legs is similar to our Sabre drill allowing for high volumes of trash to flow through and ensure all ground is worked.
The 4 rows of 40mm points are mounted to the frame using coil tines allowing for a variety of different points to be used. These are followed by a full width 'V' ring roller to leave a level finish. Removable scraper arms allow for quick replacement and to aid clearing larger debris.
All models can be fitted with a Magnum Seeder for cover crop, grass and OSR establishment.
The Energiser is currently available as a 6-metre working width, with additional working widths under development.

Standard Specification
36 coulters of heavy-duty coil tines across 4 rows with 40mm reversible points and 167mm leg spacing, a full width 700mm Ø heavy duty 'V' ring packer roller. 6" maximum working depth, with hydraulic depth control adjustment using coloured aluminium spacers. Cat III linkage, LED work lights. 2.7m transport width, hydraulic transport safety lock. 180 HP minimum power requirement, 8-12kph recommended working speed.
Key Features
4 Rows of Tines
The coiled tines have been staggered across 4 rows with 500mm row-to-row spacing to allow high volumes of trash clearance, with suspension allowing the 40mm tine to oscillate, further aiding trash flow and reducing stress on the machine. These tines are mounted on to the frame using a simple bracket, enabling them to be easily removed and replaced in the field. The inch-by-inch coiled tines allow for a variety of different points to be used.
Substantial Heavy Duty Frame
The heavy-duty CAT III headstock is mounted on a robust frame, featuring a two-section wing fold with 60mm pivot pins all within a 2.7m transport width. The Energiser has been designed to reduce maintenance and improve reliability by using long lasting wearing parts in conjunction with a welded 88.9 x 8mm tube frame to provide extra strength whilst preventing material lying on the machine during work.
Hydraulic Depth Control
The working depth of the Energiser is between 0 and 15cm (6") and is easily adjusted using the hydraulic operated rear roller. The hydraulic rams are extended, and aluminium spacers inserted to set the desired working depth.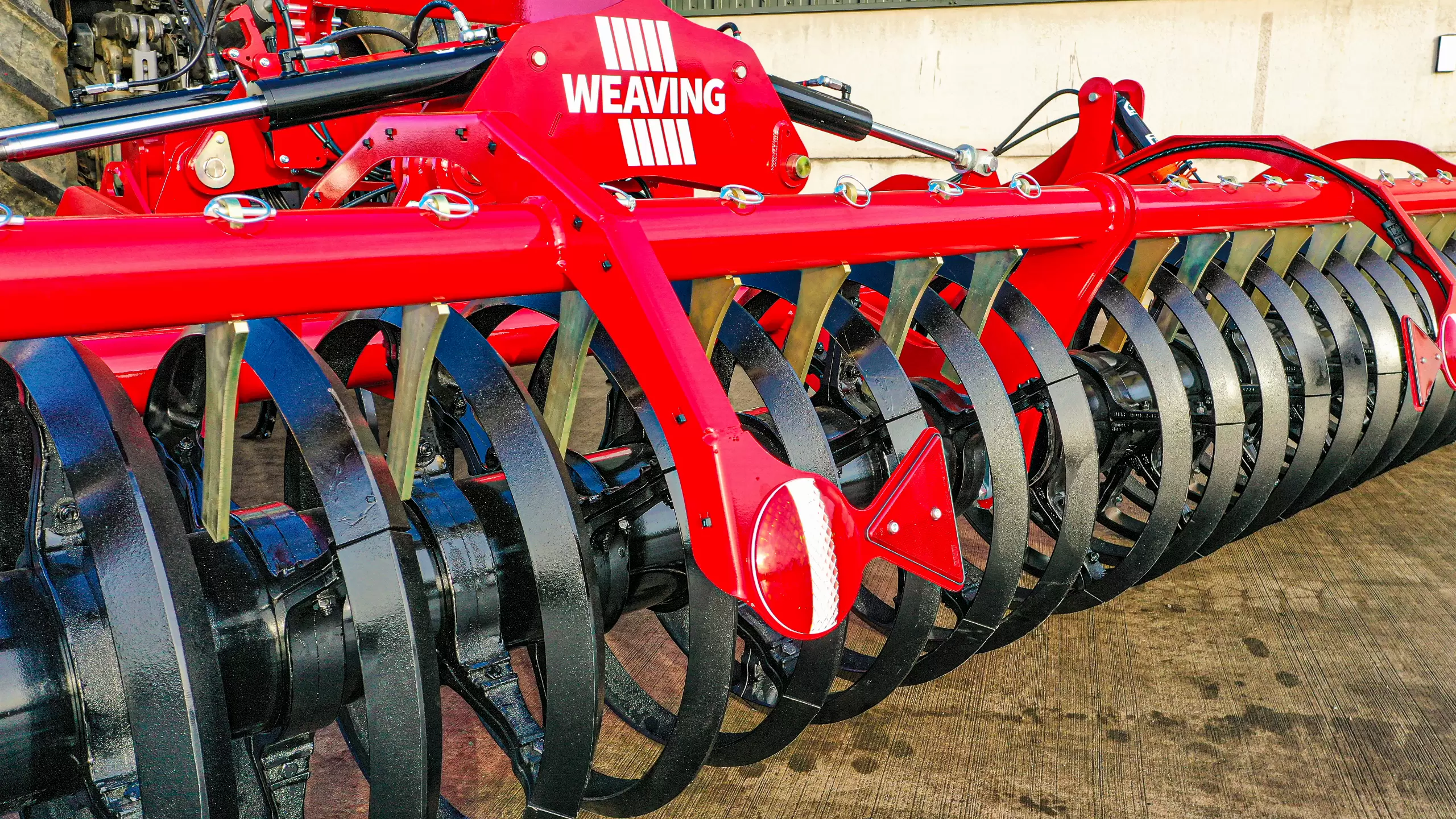 Heavy Duty Cast Iron Roller
A 700mm British Cast Iron 'V' ring packer roller follows the 4 rows of tines to leave a firm and level seedbed. The roller is equipped as standard with easily detachable clod breakers allowing for quick replacement or for clearing large debris. The cast rings are made up of 3 individual pieces also for ease of replacement if needed
Optional Front Wheels
The Energiser cultivator can be equipped with front support wheels for improved contour following. They ensure the cultivator works at the desired depth along the width of the machine over uneven terrain.
Trailed Model
New for Autumn 2023, the trailed Energiser offers unrivaled seedbed preparation much like its mounted counterpart. Rear transport wheels and a Scharmüller hitch provide increased maneuverability and better weight distribution.
Pricing
Optional Specification
Select from the options below to add them to the final price
Finance Calculator
To calculate your finance quote please click on your preferred model and optional specification from the list above. Then below, please select your preferred payment frequency and term length. Please note these are indicative figures and do not include any applicable delivery charges. Bespoke finance quotes are available to suit your budget, please ask our sales team for more information.
| Model | Energiser 3000M | Energiser 5000M | Energiser 6000M | Energiser 6000T |
| --- | --- | --- | --- | --- |
| Working Width (m) | 2.95 | 5 | 6 | 6 |
| Transport Width (m) | 3 | 2.7 | 2.7 | 2.7 |
| Number of Legs | 18 | 30 | 36 | 36 |
| Leg Spacing (mm) | 167 | 167 | 167 | 167 |
| Recommended Working Speed (kph) | 8-12 | 8-12 | 8-12 | 8-12 |
| Min Power Requirement | 120 | 150 | 180 | 180 |
| LED Road Lights | Standard | Standard | Standard | Standard |
| Packer Diameter (mm) | 700 | 700 | 700 | 700 |
| Working Depth (mm) | 0-150 | 0-150 | 0-150 | 0-150 |
| Weight (kg) | 1600 | 2700 | 3200 | 4200 |